So.... What is it like in Sweden?
---
Sweden is a long and narrow country located in northern europe. Get out you old globe and look. We are right up there about the same latitude as Alaska!
The capital of Sweden is located on the east coast and is built on several islands. There is a lot of water in the capital city and it is the only europeen capital that you can fish in and still be able to eat what you catch! It is really a beautiful city with lots of old houses, an Old Town that is 1000 years old, and a castle!
We have a King and Queen. King Karl XVI Gustav and Queen Silvia (Silvia is german raised in South America). They have three children, Crown Princess Victoria, Prince Karl Philip and Princess Madelein. Both Victoria and Karl Philip have studied in the USA. They do not live in the castle in Stockholm, but the King has his office there.
We live in Vedum. Vedum is located in southern Sweden, about 80 km east of Gothenburg. It takes about 1½ hours to drive to Gothenburg which is Swedens #2 city. Vedum is a small town with about 1000 people living here. We have one bank, one food store, one gas station that also has a convenience store, a gift shop, two clothes stores, a material store, a shoe store, a pizza parlor and a sandwich shop, 4 or 5 beauty salons (at least), an electrical store, and a hardware store, and a train station where the trains stop approximately every hour and where you can ride to the next station and from there get to just about anywhere in Sweden.
We live in the largest, oldest house in town. It has always been called "Slottet", which means "The Castle".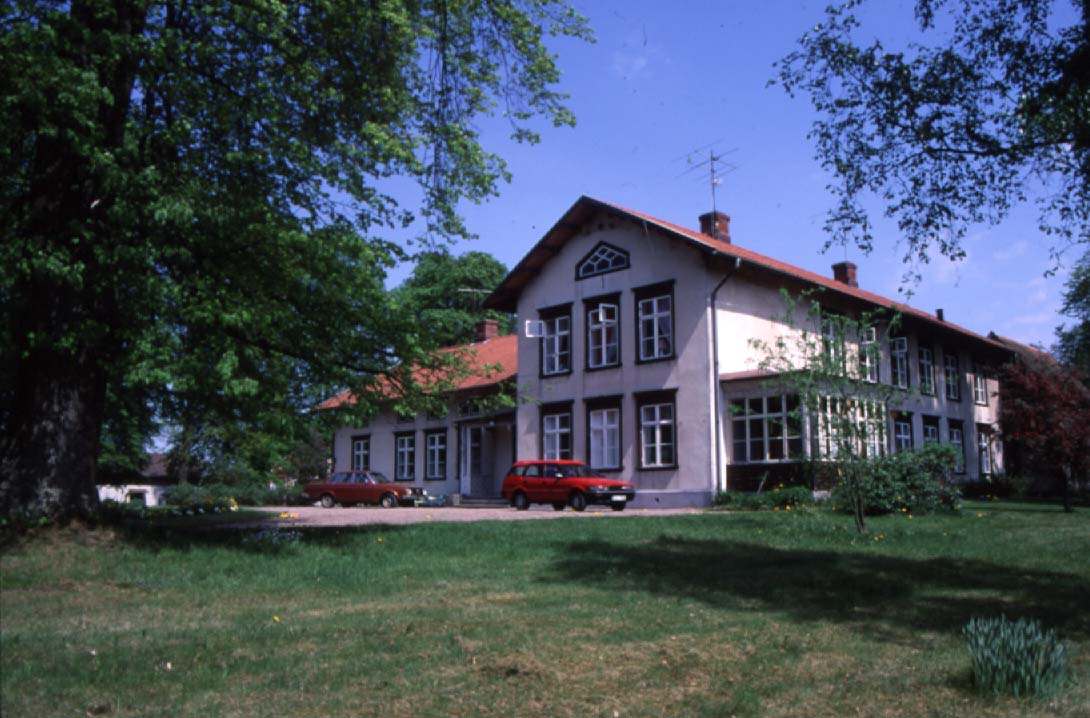 Slottet
The house was built in 1874 by a man named Gamelin. He lived here for a few years before his death. Through the years the house has been used for many things, Office for the chief of Police, Post Office, Hair Salon, Plumber Shop, Deaconess Office and probably more that we haven't yet heard of. In the back there is a large building that has also had many uses. At first it was a wagon shed, stable, blacksmith shop and storage for grain and other items. Later they sold meat and cheese in what is now our garage. There was once a pig stye and a chicken coop. We have had lambs out there and now we have chickens! We have plans to fix up one of the wings for an office/studio/archive storage. The house was split into five apartments when we bought the property in 1992. We still rent out two of them and right now we have very good tennants. One is 91 years old and still does some of the gardening around here! The other three apartments we kept for ourselves and we have been slowly renovating the place over the last seven years. We are now done with the first floor where we have a large country kitchen with an ajoining playroom. Living and formal dining room (that we almost never use, maybe when the kids get older we will be in there more). And our office, which is a big room with a fireplace, a large walk-in storage area and an editing room which may become a guest room sometime in the future. From the office you come out to the glassed in veranda which you can see in the picture. We also have a laundry room and a small bathroom on this floor. Upstairs we have only begun to renovate. We have remodeled the bathroom, it just needs to be wallpapered (something we never seem to have time to do, I hope to get it done before Christmas!) If you turn right at the top of the stairs you enter into what was once an apartment. There we have two bedrooms, a tv-room, and a kitchen that I now use as a diaper station. The one bedroom is ours, and next to it we have Stephanie and Olivers room. If you turn left at the top of the stairs you enter the attic (brrrrrrrrrrr) and the first thing you notice is that it is not insulated yet! The next thing you notice is that it is a very large (and clean) attic! (We just cleaned out a bunch of stuff!) We have great plans for this room once we have insulated and fixed it up. It will be a great room to show films in and hang out in. When we have walked through this freeeeeeeeezing room we get to the boys rooms. Jonathan's room on the left and Erik and Nicolas' room on the right. These two rooms were last summer's project. They have been totally renovated. We have put in new windows and closets (thankyou Grandma and Grandpa). We have also painted, wallpapered and put in carpet (Jonathan's room) and hardwood flooring (Erik and Nicolas' room). There are actually three flights of stairs in the house. One from the main entrance, one from the kitchen and one up to the second floor apartment that we rent out. When we bought the place I was reminded about the song from Fiddler on the Roof, ......."one long stairway just going up, and one even longer coming down, and one more going nowhere just for show!"
Since we live so far north we have almost a midnight sun. (If you go to northern Sweden you will see a midnight sun.) At midsummer (June 21) the sun goes down at about 11:30 pm and goes up again at about 2:30 am, it never really gets dark during the summer because you can still see the light from the sun even if it has dropped below the horizon. But at Christmas the sun goes up at about 8:30am and goes down at about 3:00pm and the sun is very low during the winter. Suprisingly we don't usually get very much snow in the winter, and it doesn't get too terribly cold either. The a gulf stream along the coast keeps the temperatures up. Most of the times it rains, and when it starts it can rain for weeks. Spring is always exciting because you watch with anticipation as each new spring flower comes up and the trees start to bud. Summer can be rainy or sunny. This last summer was pretty nice with many sunny days. There are a lot of lakes in Sweden so when we have some time off we take the kids swimming at the lake. But right now it is fall and all the fall colors have begun to show on the trees. When the sun shines it is like the whole country side is glowing!
In Sweden workers have 5 weeks paid vacation every year. Factories and business (except stores) all shut down in July. Even churches cut back on programs during the summer, there is no sunday school or other activities for the children, but they often have tent-meetings, big circus tents that they have church in, people who never go to church will often visit a tent-meeting. However since we are self-employed we never have vacation. We have socialized medicine, something which has its advantages and disadvantages. If you are sick, your employer pays you sick leave for the first two weeks, then the state kicks in. If you have a baby you get one year paid leave (80% of you salary paid out monthly), you don't have to collect it all at once, you can spread out your leave for 8 years, but you don't get more money that way you just learn to live on less or work part-time. We also get $93/month/child for the first 2 children, for child #3 we get $139/month, and for child #4 and 5 we get $186 each/month. This "child subsidy" is paid out to the parents until the child is 16 years old and then to the child until he/she is 18 years old. We also collect about $280/month to subsidize housing costs.
Salaries vary but a registered nurse with several years experience makes about $2250/month. Skilled laborer like carpenters, plumbers, electricians etc. make $25/hr. Income tax is 50%, sales tax is 25% on everything except gas, cigarettes and alcohol (on these items it is more!)
Price Comparisons- (1USD = 7.76 SEK)
The sales tax of 25% is included!
7oz. bag of potato chips - $1.9
50 cl. bottle of Sprite - $1.29
Big Mac & Co (med. fries and med. drink) - $5.60
frozen turkey -$3.00/lb, fresh - $4.10/lb.
box of laundry detergent 5.5 lb. (around 34 washes) - $6.44 ON SALE
a pair of summer stretch shorts ½ off -$5.72
children's highcalf thick ski socks - $14/pair
1 gal. gasoline (3.78 liters) - $3.77
oil change on the car - $100 (yes that's right, not ten dollars but one hundred dollars!)
car wash (the drive through kind that you get for free in the US when you fill up with gas, no drying, no vacuuming) - $12.50
(thankyou Linda Jacobsson for the prices!)
Schools
We live next door to our school which is very convenient. But our kids are always the last ones to get to class! Funny how that works! (something we need to work on this year I think.) About 4 years ago they began a new project in Vedum with the school. The school is from kindergarden - 6th grade. There are two kindergarden classes, which are later split into the 4 tracks. Each track has a 1-3grade class and a 4-6 grade class. Erik is in the second grade now, he is in the same class room as last year and has the same teachers. There are about 8 first graders in his class, 8 second graders, and 8 third graders. Last year when Erik was in first grade and Jonathan was in third grade they were in the same class. Nicolas is in kindergarden now, next year he will be in the same class as Erik. Jonathan is in the 4th grade, in a class with 4th, 5th, and 6th graders. When Erik starts 4th grade, he will again be in the same class as Jonathan. This new system seems to be working well, and I have actually not heard very many who are negative. You are also free to choose if you want you children to be placed in the same track as a sibling or not. We find it easier to have the same teachers to contact, they know us and we know them. By the time all five of the kids have been through school they will know us very well! After 6th grade they have to go to the next town to the school for 7th-9th grade, and then for "Gymnasium" which is a pre-req. for university but not manditory. Most people choose to go to "Gymnasium", but I think only about 20% go to university.
Well that was Sweden in a nutshell, which is just about what Vedum is.....a nutshell. So from one nut to another........welcome to the nuttybin!!!!!
---