2010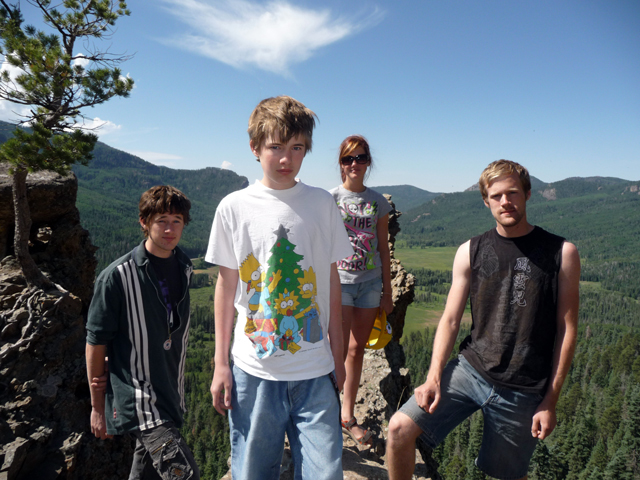 Winter 2009/2010 proved to be the coldest and snowiest we've had in Sweden for 40 years! We had so much snow that we didn't know where to put it all. I thought it would take all summer for it to melt but it disappeared in less than two weeks!
Stefan and Nicolas went to Sri Lanka in March meeting lots of old friends including our "Sri Lankan son," Nihal, who is now married. Nicolas met a girl on the train and almost got himself married off. You have to be careful when you're traveling in other countries!
Stephanie had a great adventure this spring. She flew with Stefan to Alaska where she stayed for three weeks with the Carpenter family (Tundra Comics). She went to school with their daughter and made lots of friends. Then she flew south to Colorado where she got some quality time with her grandparents and oldest brother, Jonathan.
In May Stefan's nephew, Anton, married Maja. Anton is the second son of Stefan's oldest brother, Jörgen.
This summer most of us were in the states. Erik chose to stay in Sweden which gave us a built in housesitter, very practical. After spending a month in Colorado visiting with LaVonne's parents and with Jonathan, we loaded up the car and headed north to Alaska. It was a new experience to make the trip with only three kids in the back instead of five, not necessarliy easier either! Weather in Alaska this summer was record breaking! It was the wettest summer in recorded history. Kodiak wasn't much better. We spent three weeks on the island and one of those was spent in the refuge, camping! Luckily those days were some of the best, weather wise. We saw bears and other animals and did a lot of fishing, at least the kids did. We had a great time.
In the fall Stefan was back in the states in North Dakota where he was the director of the newly started film festival at Höstfest, North America's largest Scandinavian festival. After the festival he drove over to Minneapolis for the premiere of the second film in our series, "Pretty Much 100% Scandinavian." Jonathan is still in Colorado, studying at Colorado Technical University and working at Eidelweiss. Erik is studying Bible in Alingsås, Sweden and living at least part of the week in that town, coming home occasionally to repack. The rest of us are in Vedum, LaVonne working on various projects and Nicolas, Stephanie and Oliver all going to school in Vara.
In November winter returned to southern Sweden and we are now covered in snow. It seems that the year will end as it started, with record breaking snowfall and the thermometer bottoming out. Christmas preparation began with us making sausage that will be on our Christmas table. This year we decide to cut down our own tree and Oliver had the honors. Stephanie's friend, Phillip, joined us in dressing our tree and then we went to Borås for shopping and sandwiches at Subway (yummy! American food!) Oliver turned 13 on December 16th and now we have four teenagers in the house, at least for a couple of months.
Highlights from 2010