2009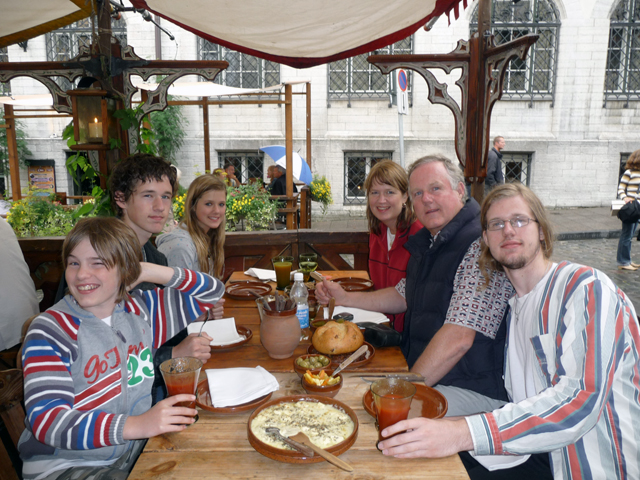 January - Nihal, our Sri Lankan son, was still visitng and got to experience frozen lakes and snow.
February - Erik turns 18
March - Our friends the Carpenters came to visit from Alaska. Chad Carpenter is the cartoonist behind the Tundra series that you may have seen in your local newspaper. Stefan is producing a film about Chad that is expected to be finished 2011. Chad was a big hit with the kids at Oliver and Stephanie's school, and Oliver has now become his #1 fan! Karen Carpenter's great-grandparents came from Sweden and we were able to locate the village and the house where her great-grandfather was born.
Stefan went to Minnesota for the premiere of the first film in our new series, Pretty Much 100% Scandinavian. It was a great success!
April - Johannes and "Signe" came to live and work with us for three months. They were part of a Sweden/Thailand exchange group that had spent 3 months in Thailand and then 3 months in Sweden. Johannes and Signe produced their own film about their exchange program and its members.
Nicolas turns16
June - Nicolas graduates from 9th grade. He gets a scholarship from the music school. One day, the last week of school, all the 9th graders dress up and parade on bicycles through Vara. Nicolas and his friends dressed up as nuns! Stephanie graduated from 6th grade and will be going to school in Vara when school starts up again in August.
July - We are spending a rare summer at home in Sweden and, for once, get to see our beautiful roses in bloom. We took a trip to Estonia. Erik drove to the ferry in Stockholm and then we sailed across. We celebrated LaVonne's birthday in the midevil city of Talinn and Erik and Oliver discovered that tomato juice is not quite the same as orange juice. Blueberries were ripe and we all suffered from blue tongue!
August - This year Stefan turned 52 and LaVonne turned 48. Together that makes 100 years, good enough reason to celebrate. We put an add in the paper and invited anyone who wanted to come. Our good friend Börje Brelid, a musical/comedy performer, was on stage along with Erik, Nicolas and Stephanie. 300 people showed up to make this a very successfull celebration. In liew of gifts we asked for a donation to the Ahukuntakayo people's chapel and were able to raise enough money to help them add on to their church.
September - Stefan returns to Minnesota for more showings of Pretty Much 100%, as well as more filming. From there he made a side trip to Costa Rica to film Börje Brelid visiting his son, Tobias. Stephanie turns 13.
October - Still in North America, Stefan pays a surprise visit to Jonathan in Colorado. Jonathan turns 20.
December - Oliver turns 12. Erik decides to cut off his long hair. His good friend from school, Lisa, had the honors. Christmas was celebrated at home with everyone getting Tundra Tshirts!
Highlights from 2009