2011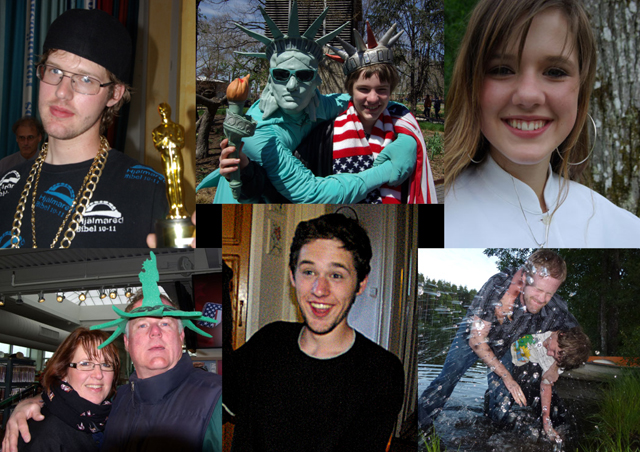 Welcome!
January: On the 6th the kids had a concert at the Church Christmas party in Vara. See film clips
In January we also had a premierre of our film Börje Brelid- Jag måste berätta. Over 1200 people filled the Vara Concert Hall in two sittings. Then we took the film on the road for a total of 30 packed showings!
February: Erik turned 20 and celebrated by making us all dinner.
April: Nicolas turned 18.
We took a trip to the US. Stefan was already in Minnesota so he picked up LaVonne, Stephanie and Oliver at the airport and we began driving towards New York. We stopped in Chicago and visited Willis Tower (formerly Sears Tower), standing on a glass floor 103 stories up above the boulevard! We tried Chicago pizza at Ginos and visited Navy Pier before leaving the city. The next day we stopped in Detroit at the Ford Museum, well worth a visit. We had one day at Niagara Falls and then finally ended up in New York City. Stephanie joined her church group from Sweden staying in a church on the lower east side and helping out in their soup kitchen. The rest of us stayed with our good friend John in Greenwich Village. We nearly walked our feet off for five days seeing as much of the city as we could. But the highlight was seeing John and my cousin Susan and her family. After five days in NYC it was time to drive south to Missouri to visit LaVonne's parents in Branson.
May: Stephanie was baptized on the 21st and confirmed on the 22nd.
Our grandnephew, Holger was also baptized in May. Holger is Georg's & Sara's son, and Stefan's brother Jörgen's grandson.
June: School's out. We went to watch Erik & Rebecka graduate from Bible college at Hjälmaryd.
Oliver was baptized in a bay on Stenungs Island.
July: LaVonne turned 50. (Unbelievable, someone must have counted wrong!) Jonathan came home as a great surprise and wonderful present! We through a big bash and Stephanie and Erik performed. See film clips
September: Stephanie turned 15
October: We returned to the states, this time with Börje Brelid. We started in Minot, ND at Höstfest and then Stefan and Börje took their film on the road for two weeks. Stephanie, Oliver and LaVonne went to Colorado for a visit with family. One of the highlights of that trip was when Stefan and Börje came to Colorado. One evening Börje and LaVonne's parents, Orla & May-Britt, sang songs they remembered from the old country. See film clips
Jonathan turned 22 in October
December: Erik is now studying music at a school on one of the islands off the west coast of Sweden. We went to see their Lucia pageant.
Oliver turned 14
We celebrated Christmas with Stefan's cousin Patrik and his family. Stefan got a present from Orla & May-Britt with is sure to cut everyone's salt intake!
2011 Highlights